You are warmly invited to be part of
Open Table North East.

Safe sacred space for LGBTQIA+ Christians & all who believe in an inclusive Church.
Open Table aims to create a safe sacred space for you to explore your faith and what it means for you. Whoever you are, wherever you come from, you are welcome here.
Open Table shouldn't need to exist. Our vision is of a world where LGBTQIA+ people are fully included within our church traditions and communities. Until then, we will continue to nurture safe, sacred, inclusive space where LGBTQIA+ Christians can 'come as you are'.
Open Table meets on the first Sunday of the month (unless otherwise stated – check Facebook for information) at 7.00pm (service starts at 7.15pm) at Space4, Ground Floor of Houghton Library, Newbottle Street, Houghton-le-Spring, DH4 4GB.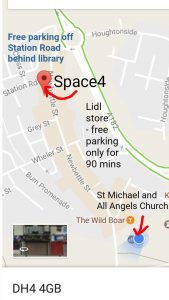 Here's a little map for getting to Space4 where we are holding Open Table. The postcode is DH4 4GB. It is on the ground floor of Houghton library at the end of Newbottle Street – the main street in Houghton-le-Spring near Costa Coffee and Gentoo. Park in the free car park behind the library – don't park at Lidl as you only get 90 minutes free. Space4 is also easily accessible by bus – Houghton-le-Spring is on the main routes from Durham to Sunderland and South Shields.
Please join our group on Facebook to stay in touch and find out more:
https://www.facebook.com/groups/opentableNE/